What does STEM stand for? The acronym 'STEM' stands for Science, Technology, Engineering and Mathematics. It's sometimes written as 'STEMM' to include Medicine too.
STEM, like the 'The Arts', is an umbrella term, grouping several fields of study. A large number of subjects fall under the STEM umbrella, including: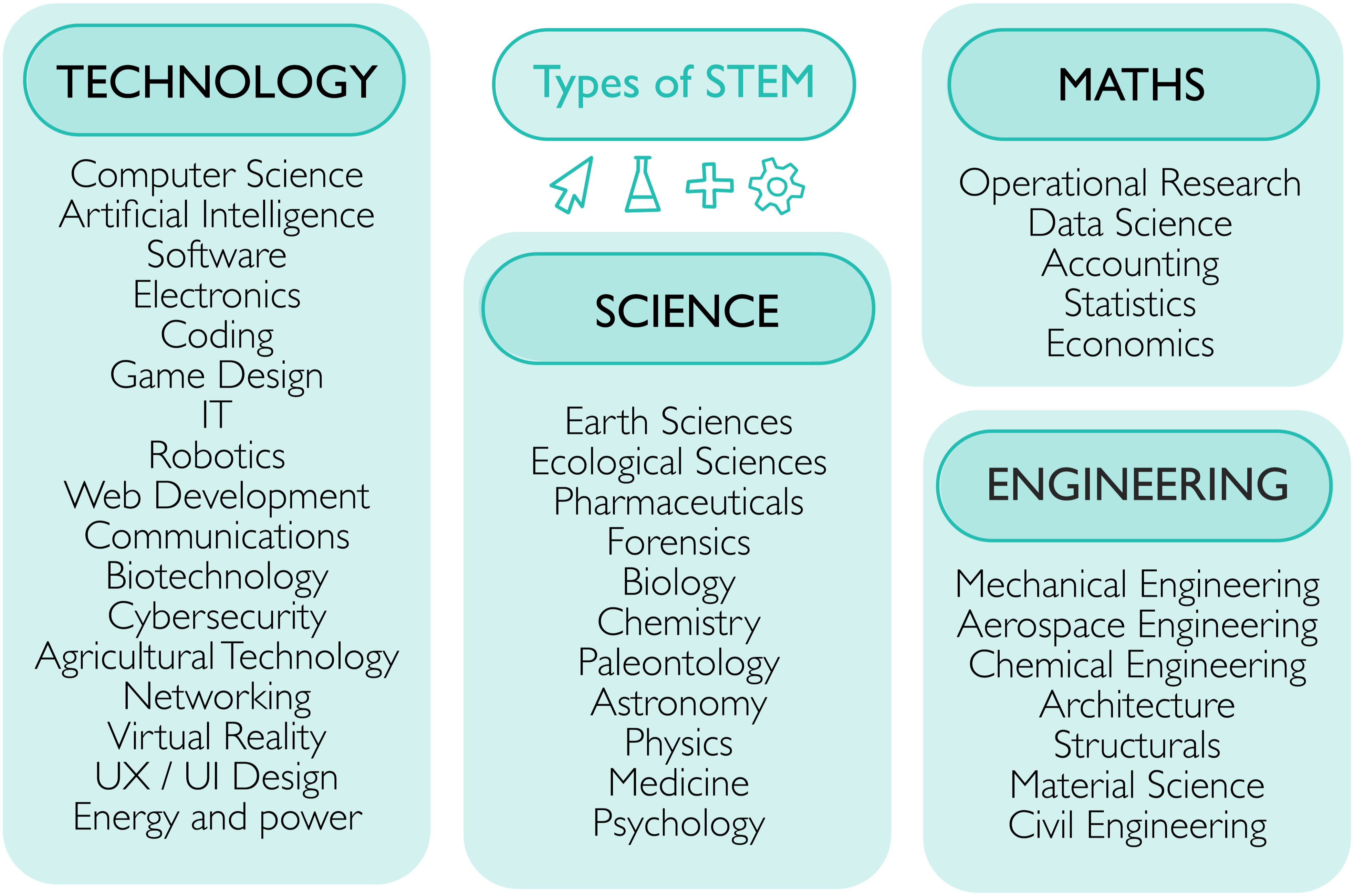 You might have heard the term STEM when talking about curriculum choices in school or career fields in the working world. People also use it for researching and monitoring trends, such as the number of women (or other marginalised groups) entering these frequently male-dominated fields.
What is STEM education and why is it important?
STEM Education is an approach to learning that integrates the study of science, technology, engineering and mathematics, with real-world applications. STEM classrooms typically focus on project-based learning and make use of modern technology.
STEM disciplines commonly intersect within many professional fields, helping prepare students for a wide range of career paths.
Why is STEM important?
STEM skills are at the heart of human innovation, from cutting-edge medicine to revolutionary technology. Science, industry, infrastructure, and the economy all rely on these tools.
As these sectors continue to advance rapidly, qualifications in STEM disciplines are becoming increasingly desirable. An abundance of opportunities is available to those with a STEM education.
In the last few years, the Government has expressed growing concern about the shortage of STEM skills within the UK's workforce. Therefore, STEM education is vital in equipping future generations with the skills required to move the world forward.
What are the benefits of STEM education?
As well as having real-world applications, STEM education offers a range of benefits to students:
You'll become a great thinker: STEM education will teach you to think like an innovator, from inspiring your curiosity and thirst for knowledge to giving you the determination to figure out why and how.
You'll develop key skills: STEM subjects foster key skills such as critical thinking, problem-solving, and creativity. These will be valuable in almost any career.
Plentiful career opportunities: Candidates for STEM jobs are always in demand and professionals in these fields generally have higher salaries.
Demand for STEM workers
In the UK, there's a massive demand for workers with STEM skills, particularly in the fields of mathematics, natural science, technology, and computer science.
In 2018, it was estimated that this shortage of skilled workers was costing employers £1.5 billion per year in recruitment, temporary staffing, and training costs.
Since STEM skills are crucial for the UK's economic growth and technological advancement, there have been growing efforts to increase the number of graduates pursuing STEM careers. So, if your interests and ambitions lie within STEM, the world may very well be your oyster.
What careers are there within STEM?
There's a huge variety of exciting jobs within STEM fields, including:
Actuary
Aerospace engineer
Biomedical engineer
Biochemist
Chemical engineer
Computer scientist
Environmental engineer
Geographer
Industrial engineer
Materials scientist
Mechanical engineer
Meteorologist
Nuclear engineer
Psychologist
Software engineer
Statistician
How to begin your journey into STEM
Interested in STEM? If you're currently studying a STEMM subject and you're considering taking it at A Level or university, then our STEM section is for you.
From GCSE and A Level to university and beyond, we give you the lowdown on your options at every stage of your academic journey. We cover subjects, essential skills, work experience, future career options, and more. You'll also get to read about the paths taken by people working within STEM fields today.
Informative and inspiring, our STEM section is designed to help you thoroughly explore your options and interests and make the right decision for you.
Copy URL