Course Description
Our AS Level Geography courses are designed to get students up to speed for their end-of-year assessments or consolidate content ready for Year 13. The course also includes preparation to support students with their NEA, getting them on track to start this exciting project. The topics and skills covered over the two-days are common across exam boards so this course will be suitable for most students.
During this course, students will revisit the key content they covered in Year 12 before working on the important exam technique and essay writing skills which will see them through to the end of Year 13. Using past paper questions, they'll learn how to tackle short and long-answer questions effectively to ensure they'll maximise marks on exam day. Along the way, our tutors will help students identify and fill in any gaps in their understanding, strengthening their overall Geography knowledge. The afternoon of day 2 is dedicated to the NEA. Our course tutor will go through everything students need to know to tackle this assignment independently after the course.
Not only is this course a fantastic way to prepare students for their exams, but it'll also get them feeling confident, positive and ready to take on their NEA and Year 13.
Suitable for:
Year 12 students
Students preparing for summer assessments or looking to review content before year 13
Students who are predicted D or below
If you need help deciding if you will benefit from this course you can contact us. Alternatively, you may prefer to book 1-2-1 tuition instead.
Structure of the Day
9:30am - 4:30pm
Classes are from 9.30am to 4.30pm. Registration starts from 9.15am.
There will be a 1 hour lunch break and a couple of 10 minute breaks in the morning and afternoon.
Our Tutors
At PMT Courses we're proud to work with an excellent team of passionate and professional tutors and teachers, many of whom have worked at some of the country's most esteemed academic institutions. While each teacher brings something unique to the table, they all aim to leave you feeling inspired, knowledgeable and confident.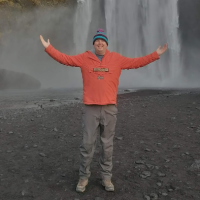 David F.
After becoming a qualified teacher in 2012, David spent 10 years teaching the AQA geography syllabus to GCSE and A Level students. During this time, he gained an excellent track record for helping pupils hit their target grades, with many of them going on to study geography at university level.
David's academic credentials also include working as an assistant faculty leader for the humanities, and as a professional mentor for new and trainee teachers. Alongside teaching, David has also been involved with the supervision and guidance of NEAs, including the facilitation of fieldwork required for NEA inquiries.
If you would like 1-2-1 tuition with David you can find his profile on our tuition platform.