Course Description
Our online Economics summer refresher courses are designed to give students a thorough recap ahead of the new academic year.
During the three-day course, our professional teachers will walk students back through the key topics they covered in Year 12, ensuring their knowledge and understanding are completely up to date. They'll also work with students on their essay writing technique – an intrinsic part of A Level Economics. During this section of the course, students will develop the skills to plan, structure and write sophisticated, mark-maximising essays.
In addition to our online classes and essay writing workshop, students taking this course will receive a selection of our unique, high-quality revision materials. Professionally printed and bound, these resources have been designed to make revision productive and digestible, providing extra support during and after the course.
Helping to develop the confidence and skills to succeed, our refresher courses are an excellent way to prepare students for the final year of their A Levels.
Suitable for:
Students entering year 13
Students looking to review year 12 subject knowledge, ready to go back to school
Students going into year 12
Students wanting to focus purely on exam technique
If you need help deciding if you will benefit from this course you can contact us. Alternatively, you may prefer to book 1-2-1 tuition instead.
Structure of the Day
9:30am - 4:30pm
Classes are from 9.30am to 4.30pm. Registration starts from 9.15am.
There will be a 1 hour lunch break and a couple of 10 minute breaks in the morning and afternoon.
Our Tutors
At PMT Courses we're proud to work with an excellent team of passionate and professional tutors and teachers, many of whom have worked at some of the country's most esteemed academic institutions. While each teacher brings something unique to the table, they all aim to leave you feeling inspired, knowledgeable and confident.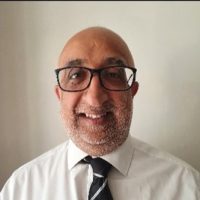 Ranjit S.
Ranjit is a successful economics teacher and tutor with over 25 years of experience in various academic settings. Over the years, he's taught a diverse range of students, giving him the knowledge and skills to help anyone succeed.
In addition to teaching, Ranjit has also worked as an examiner for various exam boards, providing him with in-depth knowledge of what it takes to score a top grade. He believes in taking a tailored approach to lessons, where robust planning and engaging interactive resources are key.